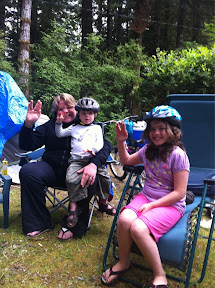 We are home from Sockeyefest 2011. We have been talking about this trip for almost a year now, and it was a great success! We caught our limit of our favourite salmon plus we all had a fantastic time on the boat and camping. The
China Creek Marina and Campground
is situated perfectly for catching Sockeye this time of year. You can walk to the marina from your campsite, great fishing is only a few minutes boat ride away, a little further out and you can catch springs and bottom fish as well. The fishing was hot the days we were there, and by yesterday the word had spread and there were a lot of boats in the inlet.
First Fish Makes the 4am Wake Up Call Worthwhile!


Time To Stop for Breakfast!
We had fantastic weather the entire time we were there. No rain, not too hot and calm waters, can't ask for more than that! As always, the amazing views provided by Vancouver Island's mountains, trees, wildlife and waterways were like icing on the fishing cake!

Dana doesn't fish but both of the Jester's kids got in on the action and had fun on the boat with us. Kristina is a tough cookie and reeled in her own fish with just a little help from dad.
It was amazing how feisty and acrobatic the Sockeye in the ocean are compared to the river where we usually fish for them. They were flying through the air, jumping over the net and one particularly ornery fellow rammed himself into the side of the boat. We were running four rods off two downriggers and a few times we had triple headers. This situation always resulted in mayhem on board as we danced around the other rods and the net to try and land the fish, this usually ended with none of the fish on board. When I suggested that we avoid the circus by ignoring the third rod, the Jester looked appalled and I was informed hat it is better to lose all the fish than to ignore a 'Fish On'. I think poking each other with rods and jumping over each other to avoid a tangle was the boys favourite part, I guess grown men will always have a little bit of 10 year old boy in them!




Double Header - one in the boat and one ready to be netted



Jen and Jacqui came for a visit

Captain Chris searching for Sockeye

Happiness Is... Good Friends and Tight Lines!